kotka gudmon: agents / 2021/2022 / director, performer
Hamburg, St. Katharinen Church, in co-production with Kampnagel
The virtual reality and computer vision based performance 'Agents' is a suspenseful 6D training for a collective future. Premiered 2021/2022 in co-production with Kampnagel in the St. Katharinen Church, Hamburg.
Working cooperative in pairs, the participants work-out strategies, maneuvers and decisions throughout the hybrid real-virtual adventure and test their belief in their own agency; the 6D training offers a transformative collective experience against the feeling of hopelessness. Between VR game event and detective thriller, framed by electro-jazz, the audience can discover their belief in the ability to act for a collective future.
Cast:
By and with: Vincent Dombrowski, Yvonne Dombrowski, Nathalie Giele, Kotka Gudmon, Marton Juhasz, Max Mandery and Daniela Dinnes Voice: Nathalie Giele, Madeleine Lauw, Conny Mews Director: Kotka Gudmon Dramaturgy, Texts: Nathalie Giele, Max Mandery Music: Vincent Dombrowski, Yvonne Dombrowski VR-Programming: Xorxor (Máté Barkóczi, Gáspár Hajdú, Gábor Papp) and Barna Dankó Computer-Vision, Interaction Design: Marton Juhasz VR-Support: Daniela Dinnes 3D-Figures: Eszter Szabó AGENCY ad spot: Lion Frenster AGENCY Music-Video: Gina Hara Graphic: Simon Smith Technical direction: Martin Kramer Set design: Carlton Lee Morgan, Sophia Sylvester Röpcke Productions Assistance: Linda Lou Dierich-Matzke, Marco Merenda, David Mielecke, Nágila Analy Freitas Reis Thanks to: Nadine Dickscheid, Adrian Giele, Frederic Lilje
Supported by Fonds Darstellende Künste aus Mitteln der Beauftragten der Bundesregierung für Kultur und Medien within the frame of NEUSTART KULTUR, #TakeAction, #TakeHeart and by the funding 'Produzieren unter Coronabedingungen des Dachverbands freie darstellende Künste Hamburg, im Auftrag der Freien und Hansestadt Hamburg, Behörde für Kultur und Medien', as well as by the Bezirksamt Hamburg-Mitte. In cooperation with Hauptkirche St. Katharinen.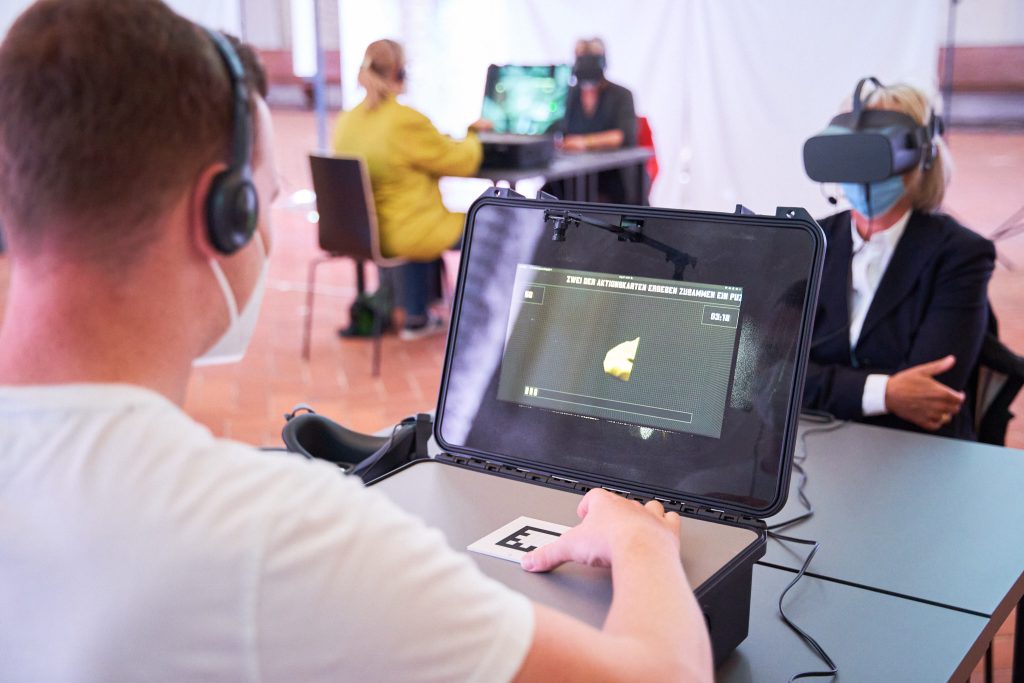 Photo © Patrick Sobottka
Graphic © Simon Smith
VR-spaces © Marton Juhasz
3D-Figures © Eszter Szabo