kotka gudmon: planetarische versicherung. a collective ecological rescue attempt with AI / 2022 / director, performer
Hamburg (empty office building nearby the lake Alster), in coproduction with Kampnagel
As an interactive performance installation, PLANETARY INSURANCE takes a look at the basic problem of solidarity in an uncertain present. Visitors* are encouraged to make decisions with a view to their potential future; the collective and individual decisions made are evaluated directly in terms of their short- and long-term effects, in relation to climate, resources and distributive justice, and the consequences are made tangible in a sensory way for the participating audience.
A remake of the artwork 'Reservoir of Seasons' (2008) by Györgyi Gálik, Gina Hara, Márton Juhász, John Nussey appears in the space of the performance installation.
Cast:
By and with: Kotka Gudmon, Sophia Hussain, Simon Salem Müller, Wanja Neite, Jos Porath, Raphael Souza Sá Director: Kotka Gudmon Dramaturgy, co-concept, immersive space design: Wanja Neite Co-concept, mediation: Max Mandery Simulation, game design and scientific consulting: Dr. Béla Kuslits Production management: Valerie Witt Production and dramaturgical assistance: Linda Lou Dierich-Matzke Production assistance: David Mielecke, Moshe Trost Sound design and music: Marton Juhasz Scenography: Christin Vahl Costume design: Wanja Neite, Christin Vahl Furnishing, prop design and scenographic-technical leader: Michael Bruckert, Lorenz Vetter Interaction design and digital stage design: Paul Geisler and Marton Juhasz Graphics and user interface design: Andreas Teichmann
Funded by Fonds Darstellende Künste with funds from the Federal Government Commissioner for Culture and the Media within the framework of NEUSTART KULTUR, the Hamburg Cultural Foundation and the Claussen-Simon Foundation. Supported by Dr. Walter Kapaun Foundation and Computer Museum Hamburg.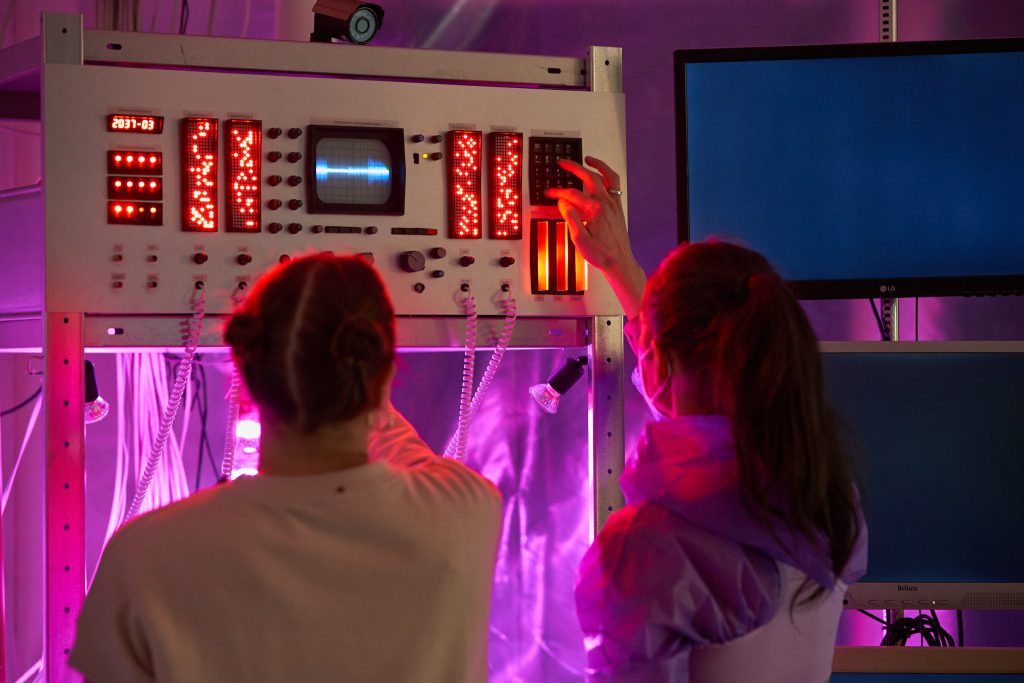 Photo © Patrick Sobottka
Graphic © Andreas Teichmann
Interview in German with Kotka Gudmon about her career, background and working methods with focus on two recent projects, the 'Planetarische Versicherung' (2022) and 'Agents' (2022/2021):